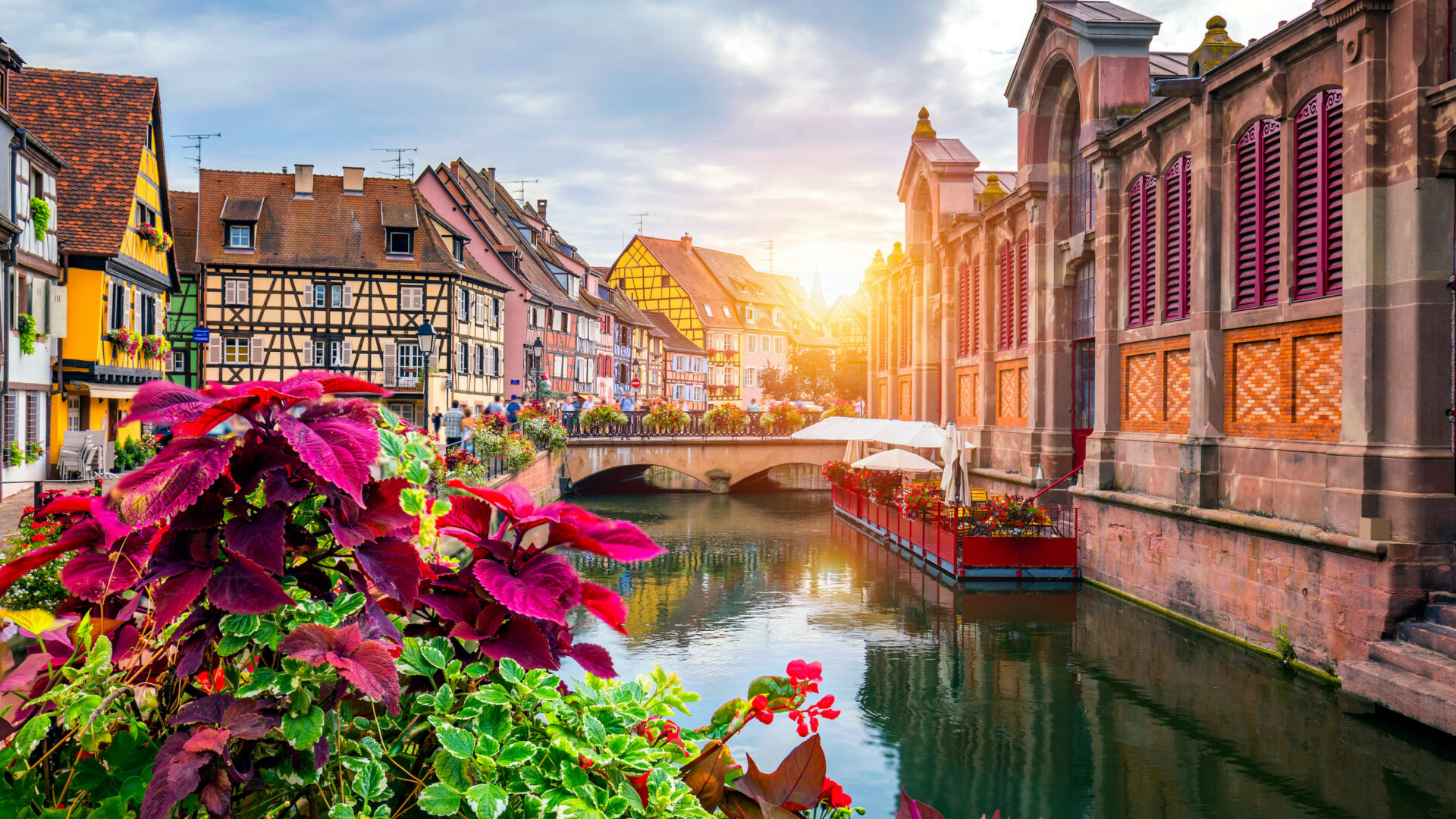 Alsace
A taste of Germany in France
Luxury travel to Alsace
You stroll along the canal and marvel at the houses on either side, half-timber, painted pastel blue, pink, yellow, a darker blue over there. The wooden shutters open—here and there you catch a glimpse of the room inside.
There are flowers everywhere: window boxes full of geraniums, gaily decorating the houses even further;
even the street posts and handrails sport hanging baskets.
It's all so charming, it doesn't seem quite real. And yet it is. Your guide explained the long history of this adorable neighborhood.
Tailor my trip
5 things you don't know
about Alsace
Alsace is nestled between France and Germany. Because the border often moved back and forth, the region has acquired a unique combination of both cultures. You will find rich history, beautiful architecture, charming villages, delicious wines, and local cuisine. You will also find politics, since Strasbourg, the capital city of Alsace, is home to the European Parliament.
A few things you might not know about Alsace:
Fighting over Alsace dates all the way back to Charlemagne (8th Century). Since 1870, the region has changed hands four times.
Alsace is one of the few places in France to have two official languages: French, of course, and Alsatian, an Alemannic German dialect spoken on both sides of the Rhine River.
One of the prettiest Alsatian villages… is actually in the center of Strasbourg. The neighborhood known as the "Petite France" is a UNESCO World Heritage site.
The Vosges Mountains, partially in Alsace, represent a geographic border between Alsace and the rest of France. Perhaps the reason the Alsatian identity is so strong?
Legend has it that the kougelhopf brioche was invented in Ribeauvillé by the three wise men. Wise? Or really good bakers?
Alsace travel guide
Where to stay in Alsace?
Luxury accommodations are the cornerstone to your luxury vacation in Alsace, and AAV has chosen only the best.
Eric Girardin and Marilyn Tanguy Girardin, owners of the Maison des Têtes, embody the long tradition of hospitality in Alsace, welcoming you in a historic stately home. The 21 fully equipped rooms combine modern elegance with traditional charm. The Michelin-starred restaurant has only 14 settings and a limited number of guests at each table, in order to provide an intimate, decidedly luxurious gastronomic experience.
The Hotel Maison Rouge in Strasbourg features large rooms, personalized décor, views of Strasbourg's cathedral, luxury, and charm. The spa offers vinotherapy anti-ageing treatments, with products extracted from prestigious vineyards. The bar and restaurant propose haute-couture dishes in a cozy atmosphere.
The Auberge de l'Ill near Colmar has been run by the same family for 150 years. The cuisine of the 2-Michelin-star restaurant is creative and original: trout tartare marinated in beetroot, lemon cream with vodka; sea bass with pumpkin and orange… The setting, in the dining room, the pigeonnier, or in the veranda overlooking the Ill River, is dreamlike.
Le Parc Hôtel Obernai & Spa has been voted the best luxury spa as well as the best spa and wellness hotel. The 2500m2 spa features a journey of initiation through a labyrinth of pools and water activities which takes you through ten different atmospheres. A truly wow! experience. Each room and suite is unique, decorated with charming, simple sophistication.
In the north of Alsace, the Villa René Lalique is truly exclusive, having only six suites, each unique in style. The herbs and vegetables used in the 2-star restaurant are grown in the garden in the 6-hectare park. Organic honey, also produced on site, is used in the desserts. A range of wellness activities, including forest bathing and earth sense workshops, are available.
La Chambard is in one of the most beautiful villages of France near Colmar. Contemporary, designer rooms and suites in the 18th century building of this Rélais & Château hotel. Their restaurant, "La table d'Olivier Nasti", has two Michelin stars. If you are feeling like something more casual, head over to their Winstub for more local fare.
Tailor my trip
Best luxury experiences in Alsace
Alsatian Vineyard Route
Visit the wine country in a private car, with a local wine expert who will teach you the differences between Riesling, Sylvaner, Gewurztraminer, Pinot Gris, Pinot Blanc, and Crémant d'Alsace. Alsace has 51 grand cru wines, and AAV will open the doors to some of the most prestigious domains for you.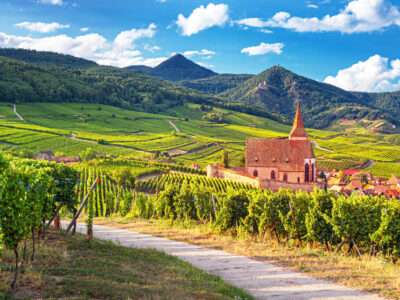 Beautiful villages
Some of the most charming villages in all of France are in Alsace, a delight to see especially when driven by your private guide. Éguisheim, Riquewihr, Ribeauvillé, Obernai, Hunspach, Bergheim…. Strolling along the tiny lanes, you will see half-timbered historic houses, châteaux, and storks. Magic.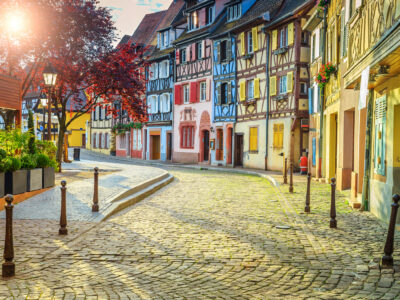 Les Vosges
If you love nature, then the Vosges mountains is a must-see. Hiking, cycling or from the back of a luxury car driven by your personal guide. The mountain range offers high altitude lakes, waterfalls, and many impressive views over the surrounding countryside, including the Schlucht Pass, made famous by the Tour de France cycling race.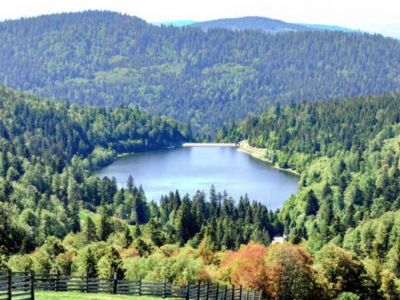 Local gastronomy
Kougelhopf, sauerkraut, bredalas, flammekueche, baeckeoffe, dampfnüdle, munster… traditional fare in Alsace is the original fusion food, a melding of French and German cuisine. Alsace is also home to 26 Michelin-starred restaurants. Let AAV concoct a food lover's luxury tour through Alsace just for you!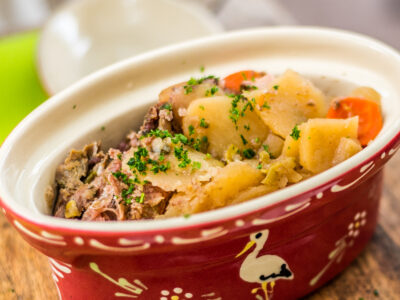 When is the best time to visit Alsace?
Alsace in winter:
Alsace is world-famous for its Christmas markets, so visiting it in winter, at least once, is a must. The Strasbourg Christmas market is the oldest (founded 1570) and perhaps the most beautiful. Kaysersberg's Christmas market is more picturesque, while Riquewihr's market is enchanting. In Ribeauvillé, villagers dress up in mediaeval garb while troubadours make merry.
Alsace in spring:
As nature reawakens, spring is the ideal moment for bike-riding in Alsace, to see the exquisite countryside in bloom. There are over 2,500 km of bike trails to choose from. Spring is also when the Bendorf Brewery in Strasbourg holds its annual festival, a three-day extravaganza of concerts, theater, and dance from local artists.
Alsace in summer:
In summer, the cities and villages come alive. The weather is warm, the days are long, geraniums blossom at every window, and festivals, shows, illuminations, and concerts abound. For athletes, summer is the best time to hike up to the "Ballon d'Alsace", the big ball at the highest point in the Vosges mountains.
Alsace in autumn:
In autumn, most of the tourists have gone, making this the ideal moment for a romantic getaway. Museums are less crowded. The beautiful landscape on the wine country turns to yellows, golds and red, perfect for a hike or a drive through the lovely hills and valleys. Even the first chills are just a good excuse for tasting the baeckeoffe.
Travel tips about Alsace
The Alsace region has beautiful country, charming villages, rich history, a strong identity, and an amazing culture of hospitality. With AAV's knowledge and meticulous planning and the insight of their local experts, you will be welcomed to some of the region's best wine cellars and most celebrated restaurants. You will have private encounters, designed just for you. Accommodations, museums, monuments, excursions—all will be chosen according to your tastes and dreams, so that you experience a very special, unique vacation, tailor-made for you.
History buffs might want to take a side trip from Hunspach to visit the Schoenenbourg Fort, built between 1931-1935 meant to house 600 soldiers in full autonomy for up to three months, and part of the infamous Maginot Line.
Be sure to visit the exquisite Lalique Museum in Wingen-sur-Moder which showcases over 650 exceptional works from René Lalique, retracing his creations from Art Nouveau jewelry, drawings, perfume bottles, to Art Deco glass and crystal.
Despite Alsatian wines being so famous, you will also want to taste the beer. Breweries and microbreweries abound in the region: the traditional Perle Brewery, founded in 1882; the newcomer Tigre, recently opened in Strasbourg, and many more.
The Museum of Printed Textiles will enthrall couture fans. Six million printed patterns stored in 50,000 textile documents.  Three centuries of the world's most beautiful luxury fabrics, for home or for apparel, all gathered in one place.
If you are traveling with children, head for the Haut Koenigsbourg Castle, one of France's great castles. Parents will love the panoramic views. Children will love the collection of authentic swords, armor and crossbows.
If you wish to schedule a time to speak about the trip you have in mind, please click on the "Tailor my trip" button and fill in our form. We will get back to you very shortly after reception of your request.

Tailor my trip