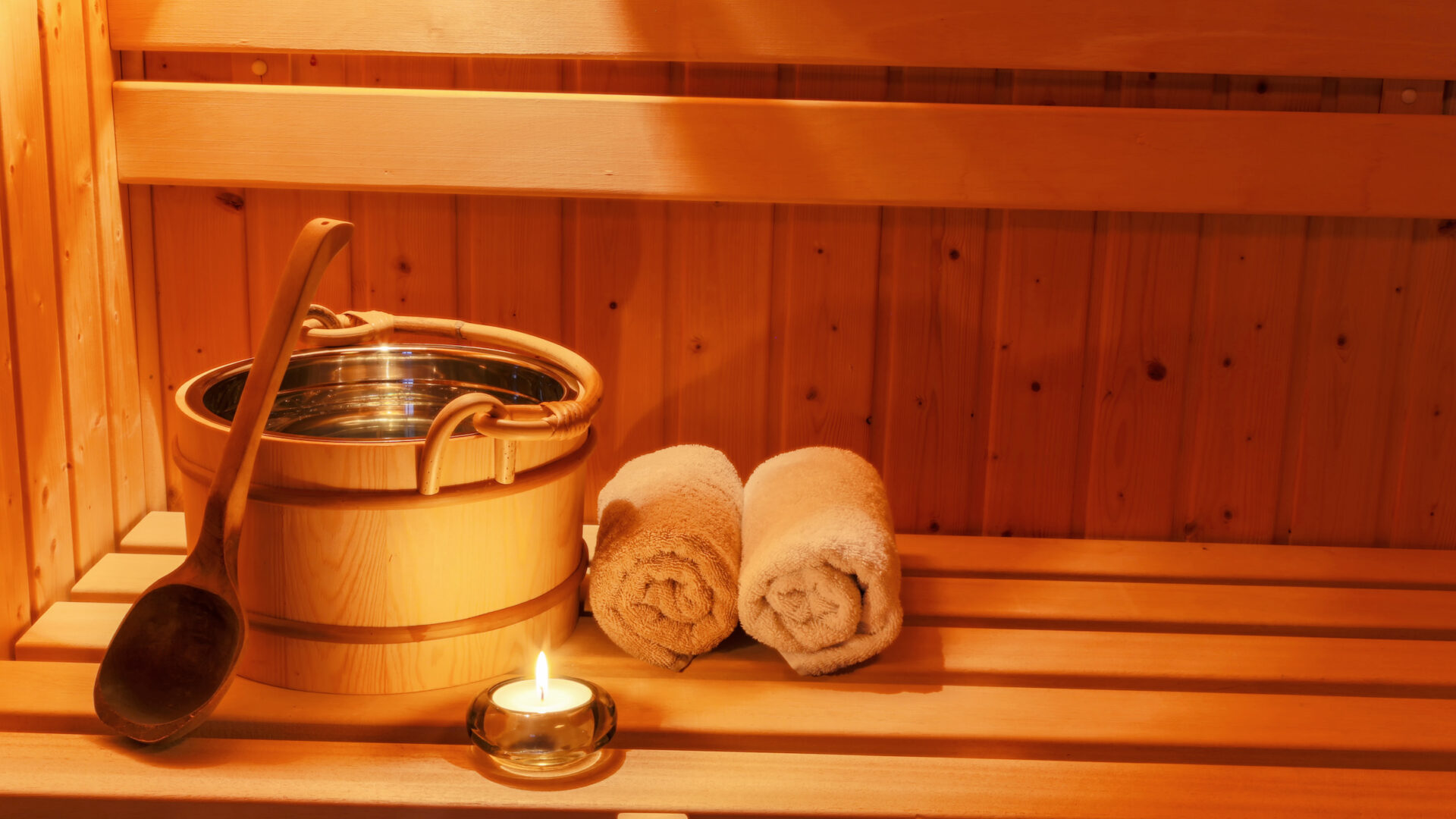 Spa and Wellness
in France
You lie back into the small pool and feel the thick liquid supporting your full weight, enveloping your body like a warm hug. You unwind, blissful, soaking in the goodness of the mud, the vitamins and minerals, entering through your pores, relaxing you, nourishing you.
The assistant gently guides you to the treatment room where a masseuse awaits. You thought you were already relaxed and yet, under her expert
hands, you feel an even deeper calm. Tranquil. Refreshed.
You sigh, so content. AAV (Académie des Arts de Vivre) had promised you an exceptional moment. They were right.
Tailor my trip
Experience Spas & Wellness
in France
AAV, your luxury travel specialist, has extensive knowledge of spas, thalasso, and wellness in France. We can tailor complete spa vacation, or just an indulgent day or afternoon to give you a boost. Great calm and relaxation à la française await you.
Let the sea cradle you
French thalasso at its finest. The Grand Hôtel des Thermes in Saint Malo offers a luxurious seawater experience. Seawater spa, massages, seaweed wraps, and the sea mist room, are completed by personalized spa treatments to offer you all the health benefits of the sea and deep relaxation.
Luxurious relaxation in Normandy
The Hotel le Normandy, with its unique Anglo-Norman style, cozy bars and chic brasseries, is in itself a great getaway close to Paris. Its wellness spa, the Spa Diane Barrière, uses Biologique Recherche treatments, the fruit of 45 years of research and development. The spa is a true ode to well-being, energy, and serenity.
All the goodness of nature
A true oasis, the idyllic spa at the Terre Blanche Hôtel Resort is surrounded by lush nature, which you can see as you lounge around the magnificent indoor art deco swimming pool. The beauty treatments and body treatments are 100% natural, for lifting, soothing, and hydrating the face and relaxing and energizing the body.
The luxury spa destination in Provence
The spa at the Villa La Coste is a voyage of the senses, embracing colors, perfumes, oils, salts and colored clays extracted from the Earth. Experience the physical or emotional release of the dry floating bed or Vichy shower. Relax in the sauna or steam room. And let yourself be pampered by the Villa's massage therapists.
A rosé scrub direct from the château
The spa at the Château de Berne is in a breathtaking setting, with stunning views over the vineyard and olive grove. The spa itself is no less stunning, tasteful, with subtle decorating evoking the surrounding landscape. The exclusive wine therapy treatments include a body exfoliation scrub made from grapes grown on the domain itself. Pure luxury!
#1 best resort in France 2022
The extraordinary Coquillade Village, tucked away in the rolling hills of the Lubéron Regional Park, has applied its meticulous eye for details to its luxury health spa. The latest hydrotherapy facilities, gym, ice fountains, massages, and treatments, all designed to relax and replenish you.
Discover Spas & Wellness in France
Mediterranean wellness
Wellbeing takes on a whole new meaning in the south of France, where the warm climate, blue skies, gorgeous sunshine combine with indoor and outdoor swimming pools, workout rooms with views overlooking the Mediterranean Sea, and the finest spa treatments in the world. Calming rituals, invigorating body massages… pure indulgence!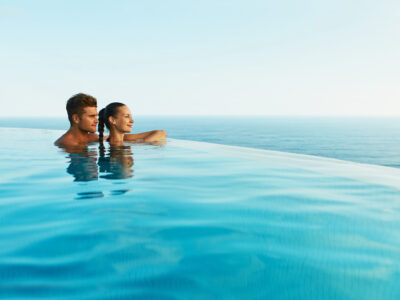 Golf and spa– a hole in one
The historic Golf de Chantilly, the award-winning Golf de Fontainebleau, the spectacular Golf de Spérone… these are just a few of the golf courses in France. Combine extraordinary golfing with amazing spa and thalasso—you've got a great vacation. If AAV organizes it, you'll also have luxury like no other.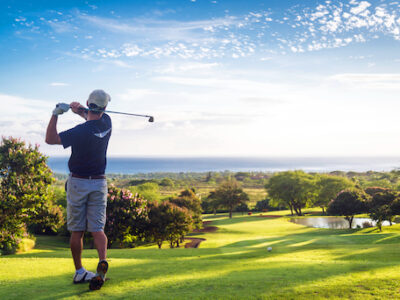 Après ski
What better way to finish a day on the slopes than to warm up in the sauna or hammam? AAV has hand-picked exceptional luxury spas for you. Enjoy massages specially designed to pamper you after skiing, or choose among other therapy treatments for relaxation, energy, circulation, and well-being.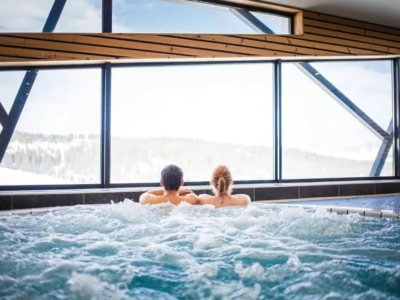 Mind and body
Visiting France's top museums, châteaux, and gardens is great for the mind, but why not do something for your body, as well? AAV can organize an afternoon, or a full day, of pampering and relaxation in a top spa, an unparalleled moment of wellness, so both mind and body are replenished.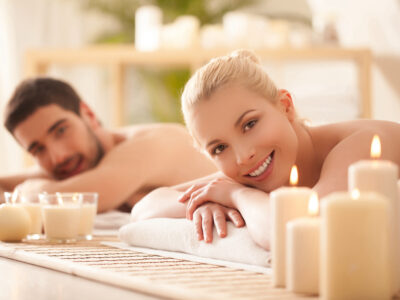 A French tradition
The French are exceptionally fond of spas and thalassos, well before 1899 when the first center for thalassotherapy was opened in Roscoff, Brittany. AAV's little black book includes the most luxurious spas, so wherever you go in France, a spa and thalasso await you.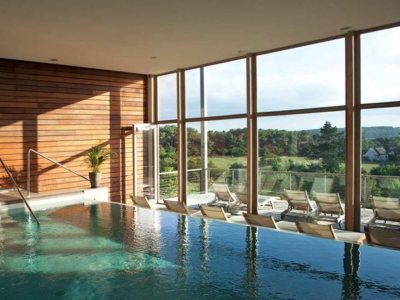 Tailor my Trip
Discover the extraordinary spas, thalassos and wellness centers in France with AAV
Like their food, the French take their spas seriously. And, just like each region of France has its own specific cuisine, French wellness centers also have regional specificities.
Along the Atlantic coast, spas and thalassos combine the benefits of the sea with the properties of the spa. Treatments are often based on sea water or seaweed: warm seawater baths, sea water mist, seaweed body wraps or scrubs, and creams integrating seaweed extracts.
In wine country, vinotherapy takes the forefront. Known for its medicinal qualities since ancient
times, grapes, seeds and vine leaves contain polyphenols and antioxydants which fight against ageing and preserve the hydration of the skin.
In the south and east of France, thermal baths with spring water tout different benefits depending on the water's mineral make-up. The baths are often Art Deco beauties, reflecting the sophistication and elegance of a time gone by.
Whether a luxury vacation dedicated to wellness or a special day of relaxation during your holiday, let AAV pamper you.
If you wish to schedule a time to speak about the trip you have in mind, please click on the "Tailor my trip" button and fill in our form. We will get back to you very shortly after reception of your request.
Tailor my trip