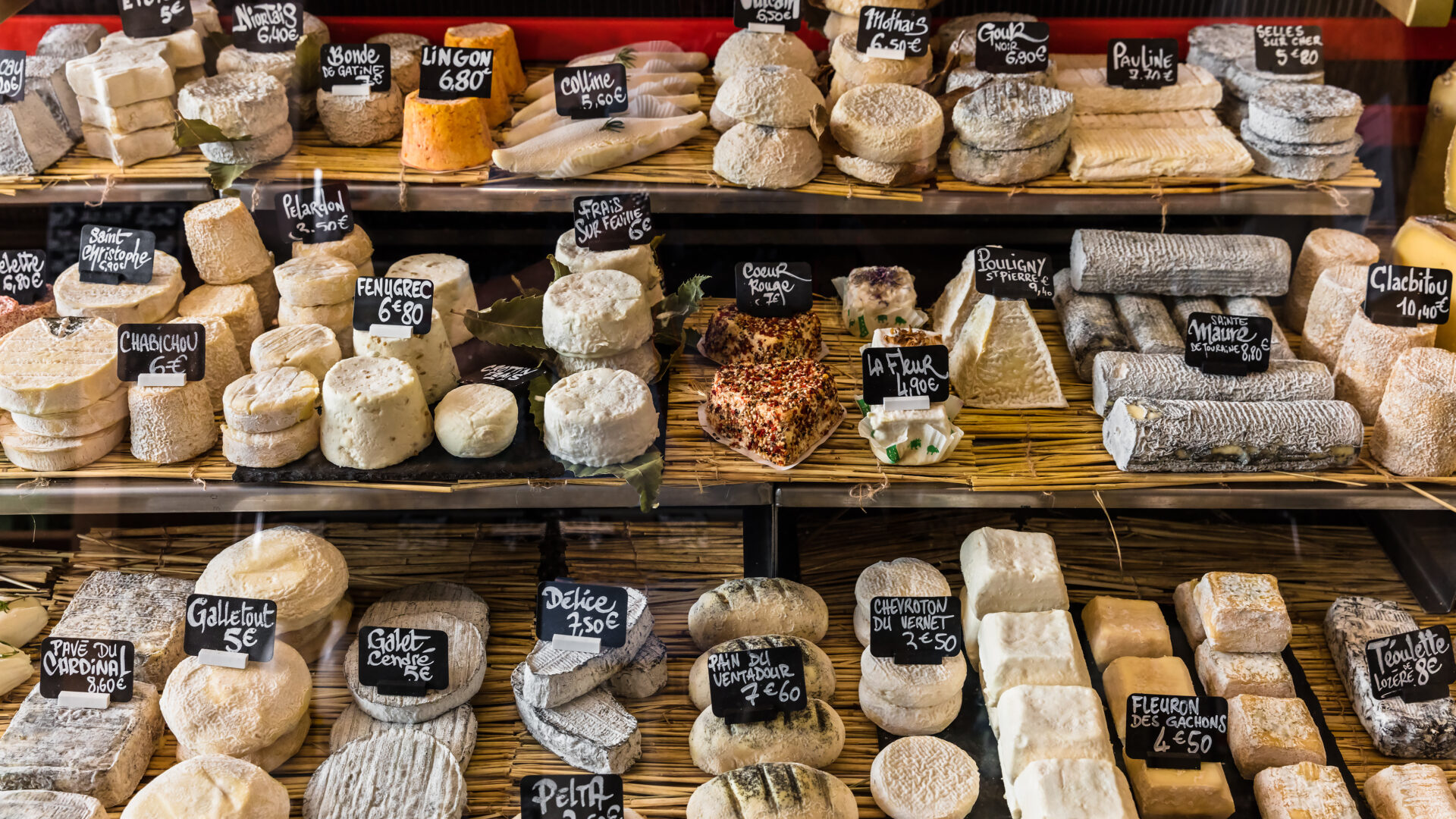 Market tours
in France
Aisle after aisle, stall after stall.  Here, beautiful tomatoes, zucchinis, and eggplant (which sound so much more exotic when called aubergine) glisten under the sun.  Over there, branches of rosemary, thyme, even lemon verbena for herb tea.  Another vendor seems to have only fruit, luscious peaches and nectarines at the height of ripeness.
And yet another has only cheese, although "only" means fifty different types inside the 4 meters of his glass showcase.
In France, going to the market is foodie heaven.
Tailor my trip
Experience France's markets
There are actually many types of markets in France; for food, of course, and also for antiques, jewelry, vintage couture clothes, furniture, books, plants, flowers, and even world-class wine.  Académie des Arts de Vivre (AAV) expert guides make sure that you see the finest examples of what each market has to offer.
Marché aux Puces in Paris
There is an art to shopping in the Marché aux Puces, the world's biggest flea market.  In Saint Ouen, at the gates of Paris, you find the best—and the worst—and your expert local guide will teach you the secrets of shopping here and help you find the treasures you are searching for.
Food markets and expert cooking class
Experience a food market with a renowned chef who will help you choose your produce which he will then teach you how to cook in his private cuisine for a rare culinary treat.
For antique lovers
There are many places in Paris for antique shopping:  the Carré Rive Gauche, the Salle Drouot, a slew of boutiques and galleries…  Depending on what you are looking for, your expert antique specialist will design an antique shopping trip for you, hitting the right places for you to find the object or the time period which interests you most.
The Beaune wine auction
Experience the unique atmosphere of the Hospices de Beaune's yearly wine auction, the world's most famous wine sale. An AAV expert sommelier will organize wine tastings for you before the auction, where you can meet with the vineyards' owners, and will also help you choose and bid on your ideal wine.  A unique form of "shopping," only in Beaune.
Experience a plant and flower show
Another type of market.  Experience a plant and flower show with a specialized botanist.  You will meet France's best growers as they gather at bi-annual garden shows at the Chateau de Chantilly  and the Chateau de Saint-Jean de Beauregard. For all garden lovers!
Discover France's markets
Paris food markets
Visit several of Paris's most loved food markets:  the Marché des Enfants Rouges, the rue Montorgueil, Marché Monge, the Marché President-Wilson, or the Marché Mouffetard, as described in Hemingway's A Moveable Feast.   Your expert guide will show you how to select the best fruit, vegetables, meat, cheeses and charcuterie.  A foodie's delight. For more on Paris.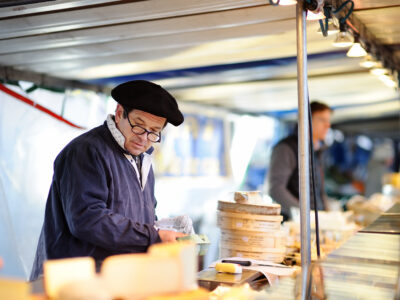 Markets in Dordogne
Attracting 20,000 visitors each market day, the market in Brive la Gaillarde is so famous Georges Brassens even wrote a song about it.  You will find locally-sourced produce, truffles from the surrounding countryside, and goat cheese from Rocamadour.  The market in Sarlat is another gem for true gourmets, with specialties from Périgord Noir:   foie gras, bolet mushrooms, duck confit.
Culinary delights in Lyon
Lyon – the heart of French gastronomy. Visit the Marché des Halles Bocuse in Lyon for one of the best food experiences. After your market, have lunch or dinner at one of the world-famous "bouchon lyonnais", one of the typical little restaurants from Lyon (think checkered tablecloths and saucisson hanging from the rafters)  where you will experience traditional recipes and an amazing atmosphere.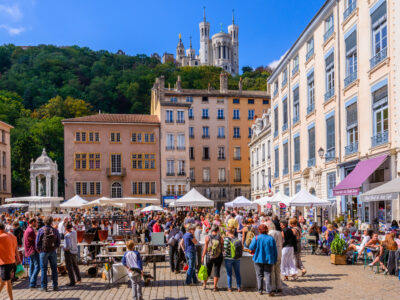 Provence markets
Visit two of the most charming markets in Provence. Aix-en-Provence has separate markets for food, flowers, antiques / flea market and clothing.  The market in Saint-Rémy-de-Provence is surrounded by specialty shops and wine bars, creating a wonderful ambiance.  In both locations, you will find lavender products, olive oils, and artisanal olive oil soaps, typical Provençal products, to take home with you.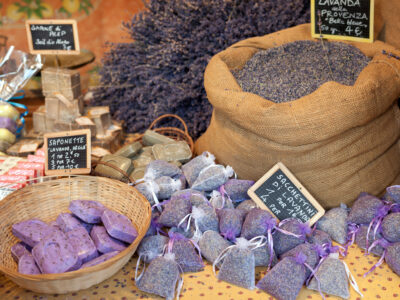 Tailor my Trip
Discover the richness of
French markets with AAV
In England, you have pubs where people from all walks of life gather for a drink, whether Lords or commoners.  In France, we have our markets.  In France's food markets, you will find a cross section of the population, the mighty and the lowly alike, side by side selecting the best tomatoes or the ripest raspberries.
The weekly trip to the market is an integral part of the French way of life, as much as sipping a café noir at a sidewalk café or visiting a museum.  Travellers serious about learning French culture will do all of these.
Because the culinary traditions and culture are different in each region, a trip to the local market when in the Dordogne or Provence will give you added insight into France's diversity.
The non-food markets, such as the Flea market in Paris and the markets for antiques, jewelry, vintage couture clothes, furniture … are interesting as well, because each one has a specific culture and codes.  This is where the AAV expert guide brings the most value, introducing you to the right people and teaching you the insiders tricks.
If you wish to schedule a time to speak about the trip you have in mind, please click on the "Tailor my trip" button and fill in our form. We will get back to you very shortly after reception of your request.
Tailor my trip